To be a guest on our rides we need: Online TEWR Waiver completed with your sponsor's name listed. Please read the By-laws/Trail Rules. Once you decide to join TEWR we require a check for dues, made out to Temecula Eq-Wine Riders. Thank you so very much for your interest in the TEWR rides and events. We are all looking forward to another year of trail riding and fun with our friends!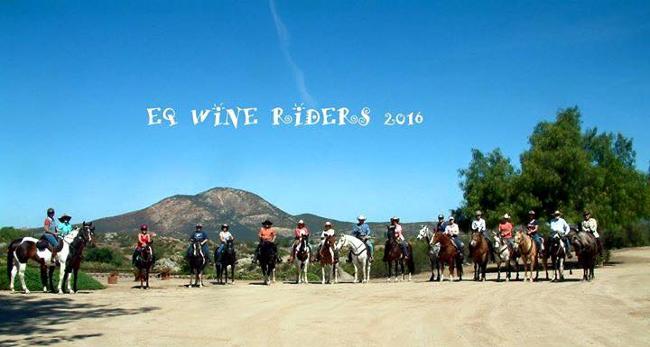 Temecula Eq-Wine Riders
Trail Rules
*Try to keep one to three horse lengths between you and the next rider. Stay behind the
trail boss and do not fall behind the drag rider. Do not leave the ride without permission.
* Faster horses should stay up front on the trail, it may be necessary to move the order of some horses once the ride begins. The trail boss may make suggestions to keep everyone safe, your cooperation is expected.
*Do not run past other riders at a gait faster than a walk without letting riders in front know of your intent. TEWR is a group of experienced horseback riders/owners enjoying their hobby together.

*If you bring a guest , be sure you have both read and agree to the By-laws Membership Section regarding sponsoring a rider.

*All horses that kick must have a red ribbon tied to their tails.

*No dogs, stallions or ponying of horses on scheduled club rides.

*Smoking in designated areas only. We do not allow drinking and riding. If a member or guest rider choses to purchase or brings alcohol to partake in AFTER a trail ride, that is their choice. Alcohol is NOT provided by the club at our rides. We expect responsible behavior from all members and sponsored guests. The TEWR Board of Directors reserves the right to refuse riding privileges or participation in club events to anyone.

*Stay on the trail, do not take shortcuts. Private property must always be respected. Close each gate you open. Observance of county and state park rules is mandatory on those properties. Be courteous , always pick up manure from staging areas before leaving.

*Minimum age to ride with the club is 18 years. We do allow the children of members to ride in some pre-approved parades & events.

*Riding lame or injured horses or abuse of horses will not be tolerated. Horses and riders must be in fit condition for rides 3+ hours, often in remote areas on hot days. A rider needs to be able to mount from the ground out on trail if required.
*Riding bareback is not for our club rides. We ask everyone to use appropriate saddles and tack in good repair., please wear safe clothing and footwear.
*If you have a severe bee sting/wasp allergy; it is your responsibility to bring your Epi Pen and notify a friend that you have it with you on the ride. If you have a serious medical condition or are pregnant, please do not join our rides.
RIDE AT YOUR OWN RISK! WE RESERVE THE RIGHT TO REFUSE RIDING PRIVILEGES WITH TEWR

Temecula Eq-Wine Riders By-Laws Per CSHA Standards
ARTICLE I

Name and Purpose
Name
The name of this non-profit organization shall be Temecula Eq-Wine Riders hereinafter referred to as TEWR. The Board of Directors will be referred to as BOD.
Purpose
TEWR has been formed to bring together experienced trail riding horse owners who strive to support, utilize, protect and preserve Southern California's equestrian parks and trails, specifically those located in Temecula Wine Country. Fundraisers are held to support these goals and donations may be made to further these same causes. TEWR promotes participation and interest in equestrian related activities for social and recreational benefit.
ARTICLE II
Membership
All members will have to meet the requirements of the By-Laws to be accepted as members.
Section 1 Members must be 18 years or older. Club membership is open to owners and riders of all breeds of horses and mules. Social memberships are also welcome for non-rider members.
Section 2 Annual dues will cover liability insurance and other operational costs of the club. The amount charged for dues for the upcoming year will be determined at the January Board of Directors (BOD) Annual meeting.
Section 3 Members must have current medical insurance.
Section 4 Annual dues are due at the January Membership Ride. Members joining after January 31 will pay the regular annual dues for the remainder of the fiscal year.
Section 5 Fees for meals, parades and other events will be set for each participating member according to fees charged to the club.
Section 6 Members delinquent for dues or other fees may not hold office or participate in club activities.
Section 7 Members may resign from this organization by giving written notice to the BOD. No refunds on dues will be given.
Section 8 Prospective new members must be sponsored on a club ride by an existing TEWR member who has been on at least three club rides. The sponsor must have ridden with the new rider and vouch for the new rider's ability based on their own personal experience together. The sponsor is not legally responsible for the prospective new members, but must ride with them during the first two club rides and assist them as needed. The prospective new members must meet all the requirements of the club prior to the ride. Sponsored new riders MUST have their TEWR waivers completed and on file with TEWR at least three days before their first ride. The BOD reserves the right to refuse riding privileges with TEWR to any prospective new members.
Section 9 The following persons shall not be considered a "member" of the club and shall not be permitted to join in any club sponsored ride or event:
(i) anyone who does not have a signed TEWR Release of Liability on file three days before a scheduled ride or event;
(ii) anyone whose medical insurance lapses shall automatically cease membership
as of the moment their medical insurance lapses.
ARTICLE III
Meetings
Section 1 TEWR meetings shall be held two times a year at the end of a scheduled trail ride, event or at a special meeting place.
Section 2 Twenty-five percent of the membership present at the beginning of the meeting shall constitute a quorum for voting issues.
Section 3 Meetings of the Board of Directors shall be held at pre-arranged dates, via group emails or at the call of the President. At all meetings of the Board, a majority shall constitute a quorum. The Board of Directors will have an annual meeting in January.
Section 4 Monthly TEWR email newsletters will be sent to all members with updates on important TEWR rides, events and happenings, as well as community equine related information. Members are expected to stay informed. Non-members who request so, may also receive the newsletter as a way to keep informed of TEWR's community involvement/purpose.
ARTICLE IV
Government and Duties of Officers
The governing body of the TEWR will have a unique composition of officers. The offices of Vice-president, Secretary, and Treasurer may have two people serving in this position. They are required to keep each other informed and vote with one voice.
Section 1-PRESIDENT
The President shall preside over all the meetings of this organization and meetings of the Board of Directors, appoint all committee chairpersons, and shall have general supervision of the affairs of this organization. The President shall be responsible to prepare agendas for all meetings. The President has the right to establish committees and appoint their Chairman. Committee Chairmen report directly to the President.
Section 2-VICE PRESIDENT
The Vice-President shall perform the duties of the President during his/her absence, and shall perform other duties at the request of the President. Vacancy in the office of the President shall be filled by the Vice-President. The VP shall inform the liability insurance carrier of planned club activities. This may be done by e-mail or written correspondence.
Section 3-SECRETARY
The Secretary shall record minutes of the Membership and Board meetings, preserve all records, reports, correspondence, and membership lists. In the absence of both the President and Vice-President, the Secretary shall preside over the meeting and verbally appoint a member to record the minutes. Minutes will be returned to the President no later than 1 week after said meetings.
Section 4-TREASURER
The Treasurer shall be responsible for the financial records of the organization, disburse funds as required, prepare report on the financial condition of the organization to present at the January meeting. The Treasurer shall issue notices of dues payable and be responsible for the collection of dues and fees required at club rides and events.
Section 5-BOARD OF DIRECTORS
The Board of Directors shall consist of the President, Vice-President, Secretary, Treasurer and additional members chosen from the membership by the board of directors, who shall be called Chairpersons. Chairpersons will volunteer to assist the BOD with rides and events as needed throughout the year. Chairpersons agree to attend BOD meetings and be included in BOD email communications.
Section 6 The Board of Directors shall have control and management of this organization, subject to the will of this organization.
Section 7 The major projects of this organization shall be reviewed by the Board of Directors.
ARTICLE V
Elections
Section 1 Floor nominations by the Board of Directors (BOD) will be held in November, before the January annual meeting. Voters will consist of the current BOD and chairpersons of TEWR.
Person's being nominated/elected to a Board of Directors position must be in good standing with TEWR for at least 1 year and must have either chaired or co-chaired an event.
Section 2 The term of office for each elected officer shall be two years or until such time as a new officer is elected by a vote of a majority of the BOD.
Section 3 The election of officers shall be scheduled for the January regular BOD meeting date. Voting shall be by ballot, with a simple majority vote. Absentee ballots may be turned in to the Secretary before the meeting in a sealed envelope, to be opened and counted with the regular ballots at the time of the election.
Section 4 If an elected officer resigns or is removed from office, the office will be filled by the Board of Directors at its earliest opportunity.
ARTICLE VI
Conduct
Section 1 Each member upon admission to the TEWR must agree that he/she shall conduct himself in a safe and respectable manner, which will reflect favorably upon the organization. Actions contrary to this can result in suspension and/or termination of membership. All members shall to the best of their ability adhere to all trail rules and by-laws set forth by the general membership.
Removal from office or from membership – Any officer or member may be removed from office or the organization as a result of failure to fulfill duties of said office or for conduct detrimental to the best interest of the organization.
Section 2 Abuse of horses will not be tolerated. All horses and riders must be in fit condition to endure up to 3+ hour trail rides, often located in remote areas. Riders must be able to mount from the ground, if required to do so on trail. Unacceptable conduct by members or guests may be grounds for ejection from a TEWR function. Such action is not a unilateral burden placed on the event chairperson or trail boss. Ejection from any TEWR event must be approved by any two of the following persons present at the event: Officers, Chairpersons, Trail Bosses, property owners or members of the Board of Directors.
ARTICLE VII
FISCAL YEAR
The fiscal year shall be from January 1 to December 31. Funds raised by this organization shall be used only for projects consistent with the purposes of this organization as stated in ARTICLE 1.
ARTICLE VIII
AMENDMENTS
The By-Laws may be amended by a vote of the Board of Directors as needed.
BY-LAWS APPROVED January 12, 2011
BY-LAWS AMENDED AND APPROVED January 15, 2012
BY-LAWS AMENDED AND APPROVED March 31, 2013
BY-LAWS AMENDED AND APPROVED January 9, 2014
BY-LAWS AMENDED AND APPROVED May 6, 2016
BY-LAWS APPROVED Decmeber 19, 2018