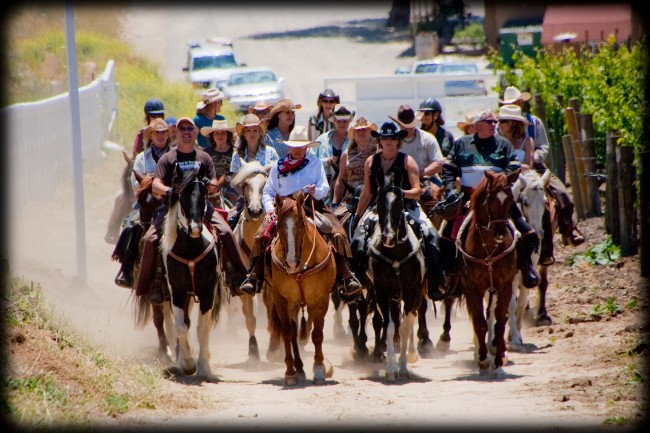 Temecula Eq-Wine Riders
Trail Rules
*Try to keep one to three horse lengths between you and the next rider. Stay behind the
trail boss and do not fall behind the drag rider. Do not leave the ride without permission.
* Faster horses should stay up front on the trail, it may be necessary to move the order of some horses once the ride begins. The trail boss may make suggestions to keep everyone safe, your cooperation is expected.
*Do not run past other riders at a gait faster than a walk without letting riders in front know of your intent. TEWR is a group of experienced horseback riders/owners enjoying their hobby together.

*All horses that kick must have a red ribbon tied to their tails.

*No dogs, stallions or ponying of horses on scheduled club rides.

*Smoking in designated areas only. We do not allow drinking and riding. If a member or guest rider choses to purchase or brings alcohol to partake in AFTER a trail ride, that is their choice. Alcohol is NOT provided by the club at our rides. We expect responsible behavior from all members and sponsored guests. The TEWR Board of Directors reserves the right to refuse riding privileges or participation in club events to anyone.

*Stay on the trail, do not take shortcuts. Private property must always be respected. Close each gate you open. Observance of county and state park rules is mandatory on those properties. Be courteous , always pick up manure from staging areas before leaving.

*Minimum age to ride with the club is 18 years. We do allow the children of members to ride in some pre-approved parades & events.

*Riding lame or injured horses or abuse of horses will not be tolerated. Horses and riders must be in fit condition for rides 3+ hours, often in remote areas on hot days. A rider needs to be able to mount from the ground out on trail if required.
*Riding bareback is not for our club rides. We ask everyone to use appropriate saddles and tack in good repair., please wear safe clothing and footwear.
*If you have a severe bee sting/wasp allergy; it is your responsibility to bring your Epi Pen and notify a friend that you have it with you on the ride. If you have a serious medical condition or are pregnant, please do not join our rides.
PLEASE FOLLOW THESE IMPORTANT GUIDELINES WHEN TRAIL RIDING IN TEMECULA
* Always ride safely and make responsible decisions. Horseback riding requires good coordination and a clear mind. Be sure to have a resident friend along that knows our local trails. RIDE AT YOUR OWN RISK!
* Many wineries have hitching rails designed for 3-6 well behaved trail horses to be tied once ridden on to the property. Most do not allow parking rigs/staging on site due to lack of space.
* Larger groups of riders, or those hauling in, will need to call ahead to the tasting room mgr. to request permission for a visit. Avoid weekend traffic and crowds, a weekday visit is much safer for Equestrians.
* Please keep in mind that winery events such as weddings, concerts, Sunday brunch, etc. may warrant a change in the rider's plans or route. You are a guest.
* Riding vineyard service roads is allowed at horse-friendly wineries only. Never ride in between the rows of vines or in to special winery venues. Do not allow horses to graze on winery property at any time.
* Locations that allow staging may have posted rules, please adhere to those rules.
* PLEASE take your manure home with you in your trailer. Manure is the # 1 complaint from property owners, managers, visitors and staff. Please walk your horse alongside dirt roads to avoid manure piles forming in the path where other visitors on foot tours may need to walk.
* Monitor tied horses, this is a posted REQUIREMENT at all of the hitching rails. Riders can take a turn at 15 min. intervals to "horse-sit."
* No outside alcohol is EVER allowed. All wineries have this CA law code posted on the premises.
* Please respect winery property, trails and equestrian rules. Local folks have worked hard to maintain good relations between property owners, wineries and Equestrians.
ENJOY & RIDE SAFE!
**********************************************************************
Temecula Eq-Wine Riders By-Laws Per CSHA Standards
ARTICLE I

Name and Purpose

Name

The name of this non-profit organization shall be Temecula Eq-Wine Riders hereinafter referred to as TEWR.

The Board of Directors will be referred to as BOD.



Purpose


TEWR has been formed to bring together experienced trail riding horse owners who strive to support, utilize, protect and preserve Southern California's equestrian parks and trails, specifically those located

in Temecula Wine Country. Fundraisers are held to support these goals and donations may be made to further these same causes. TEWR promotes participation and interest in equestrian related activities for social and recreational benefit.
A copy of the complete TEWR By-Laws may be requested by any member for review.
RIDE AT YOUR OWN RISK!
WE RESERVE THE RIGHT TO REFUSE RIDING PRIVILEGES WITH TEWR