Temecula Eq-Wine Riders
Me & My Gang, We Live to Ride!


Founded by good friends in 2007, we are a fun group of trail riders typically found roaming the vineyards of Temecula's Wine Country. We are a community of EXPERIENCED horse owners meeting often for great trail riding, friendship, food & FUN. We organize rides staging in Wine Country as well as Southern CA's many Equestrian parks, training clinics, fund-raisers, camp outs & PARADES. You can bet if horses are involved, we'll be there!


Working closely with groups in our community, such as the Rancho California Horsemen Association, we strive to preserve & utilize our riding trails in the Temecula Wine Country & surrounding Southern California Equestrian Parks. In addition, we have been proud members of the California State Horsemen's Association since 2011.

Plan to visit our business & organization sponsors often!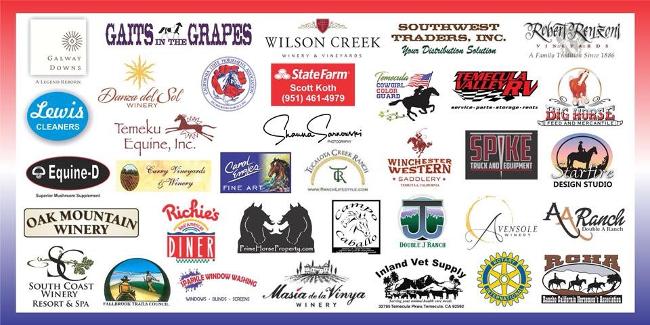 To be a guest on our rides we need: Online TEWR Waiver completed with your sponsor's name listed. Please read the By-laws/Trail Rules. Once you decide to join TEWR we require a check for dues, made out to Temecula Eq-Wine Riders. Thank you so very much for your interest in the TEWR rides and events. We are all looking forward to another year of trail riding and fun with our friends!
PLEASE READ THIS IMPORTANT NOTICE ABOUT TRAIL RIDING IN TEMECULA WINE COUNTRY
Many Wineries have hitching rails, so that small groups of 2-5 riders can ride up & visit. Most DO NOT allow parking of rigs, unless special approval has been granted beforehand. Horseback riders & parked rigs may interfere with winery events like weddings, concerts & special events. If you are riding up, dispose of manure per the winery's requirements. Wineries that allow staging rigs may have rules about the time you are supposed to pull out. PLEASE take your manure home with you in your trailer, if you are granted permission to park at a winery. Monitor tied horses, this is a posted REQUIREMENT at all of the rails. No outside alcohol is allowed. Please respect the Wine Country property, trails & equestrian riding privileges that we locals, like the Temecula Eq-Wine Riders, have cultivated over the years. We work hard to protect Wine Country's trails, maintaining good relations between ourselves, property owners, wineries & our HORSES.
RIDE SAFE!