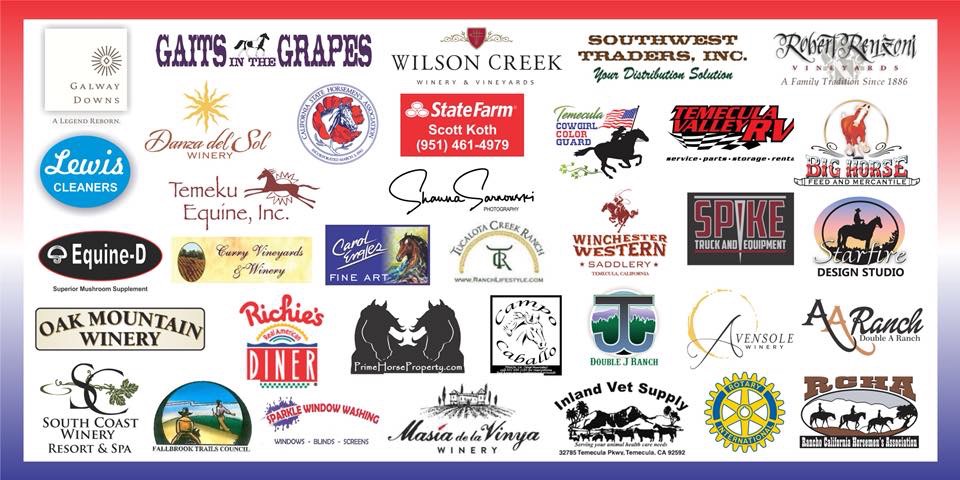 Our Distinguished Club Sponsors & Friends
Please Visit Often!
Gaits In the Grapes Guided Trail Rides
Galway Downs Equestrian & Events Center
Wilson Creek Winery
Winchester Western Saddlery
Southwest Traders, INC
Robert Renzoni Vineyards
Lewis Cleaners
Scott Koth State Farm Agency
AA Ranch, Gaited Horses
Richie's Diner
South Coast Winery
Danza Del Sol Winery
Masia de la Vinya Winery
Shawna Sarnowski Photography
Big Horse Feed & Mercantile
Starfire Design Studio
SPIKE Truck & Equipment
Avensole Winery
Temecula Valley RV
PrimeHorseProperty.com
Inland Vet Supply
Temeku Equine INC
Temecula Rotary Club
Rancho California Horsemen's Association
Equine D
Oak Mountain Winery
Curry Vineyards & Winery
California State Horsemen's Association
Temecula Cowgirl Color Guard

Tucalota Creek Ranch
Debby McNeely Mortgage
Carol Engles Fine Art
Fallbrook Trails Council
Campo Caballo Horse Camp
Sparkle Window Washing
Double J Ranch Wine Country Horse Boarding
Spike Truck & Equipment

PLEASE READ THIS IMPORTANT NOTICE ABOUT TRAIL RIDING IN TEMECULA WINE COUNTRY

Many Wineries have hitching rails, so that small groups of 2-5 riders can ride up & visit. Most DO NOT allow parking of rigs, unless special approval has been granted beforehand. Horseback riders & parked rigs may interfere with winery events like weddings, concerts & special events. If you are riding up, dispose of manure per the winery's requirements. Wineries that allow staging rigs may have rules about the time you are supposed to pull out. PLEASE take your manure home with you in your trailer, if you are granted permission to park at a winery. Monitor tied horses, this is a posted REQUIREMENT at all of the rails. No outside alcohol is allowed. Please respect the Wine Country property, trails & equestrian riding privileges that we locals, like the Temecula Eq-Wine Riders, have cultivated over the years. We work hard to protect Wine Country's trails, maintaining good relations between ourselves, property owners, wineries & our HORSES. Thank you, RIDE SAFE!